Alarm Monitoring
Top-Rated Professional Alarm Monitoring For Around-the-clock Peace of Mind
Alarm Monitoring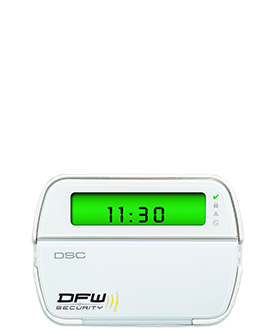 Standard Landline Monitoring
Existing, working, compatible systems with a standard home phone line monitored for $12.95 / month.
Compatible Alarm Systems
Popular Manufacturers
If your home security system is made by one of these manufacturers, it is most likely compatible with our alarm monitoring service. Keep in mind, the company name on your keypad may not be the manufacturer. Your best bet is to call us or visit our Compatible Systems page. 
Switching Monitoring Companies
If you have a working, compatible security system already in your home, our licensed technicians can switch your monitoring over to DFW Security in just a couple of hours. Make sure you're not under contract with another company before switching. Also, some home security companies lock out systems, which could require an upgrade or panel replacement.  
Exceptional Protection
Highest Quality
Quality professional alarm monitoring is still the best way to protect your home from burglary, fire and medical emergencies. Our monitoring station is U.L. Listed for reliability and is T.M.A. 5-Diamond Rated, the highest quality score available. 
Fast Response
When an alarm is triggered at your home, our Texas-based certified operators contact you within seconds and dispatch the appropriate authorities as needed.
Landline vs. Wireless
Traditional Landline Monitoring
Basic landline alarm monitoring is how home security systems have been monitored for decades. Alarm signals are sent to a monitoring center via standard home phone line. It works great and comes with the lowest cost. Unfortunately, it is also somewhat vulnerable. Phone lines can easily be cut outside the home by a smart burglar, preventing a signal from being sent.
Advanced Wireless Monitoring
Wireless alarm monitoring is the most reliable form of communication, since there is no phone line to be cut. A dedicated cellular transmitter can be attached to your existing home security system or it comes built into our SMART alarm systems. The transmitter is chosen according to the best network in your area and requires very little signal strength.
Upgrade to Smart Home Security
Get the best protection for just a little more. We can upgrade your compatible or non-compatible burglar alarm to smart security, or we can install a whole new system including:
•  Touchscreen SMART hub 
•  Built-In Snapshot Camera 
•  Bluetooth Touchless Disarming
•  Mobile App Control with Alerts and Reminders
•  Secure Wireless 2 Way Monitoring
•  Patented Crash and Smash Protection
•  Home Automation Expandable 
Homeowners Insurance
Premium Discounts
Did you know? You can earn up to a 20% discount on your homeowner's insurance premium for having a professionally monitored alarm system. We'll send a certificate directly to your agent to make sure your discount is applied.
Recommended Agents
We don't sell homeowners insurance, but we know a bunch of great agents who do! Check out our list of recommended Homeowners Insurance Agents in the Dallas Fort Worth area.
Create your Perfect Smart Home
Easily add Home Automation components to your Smart Security System for unprecedented control of your entire home with a single award-winning App.
---

Talk to an Expert
Check Out Our Latest Google Reviews